Our products are available in some souvenir shops, hotels and restaurants in Vietnam.
You can also order items directly via internet. In this case, simply send us a message.

List of our retails points of sales indexed by cites.
Sapa
Sapa Clover Hotel - 25 Muong Hoa st.,
Minimart - 49 Cau May st.,
Tribal handicraft
Hemp & Embroidery - 14 Muong Hoa st.,
Elegance Hotel
Shop Dung Nhu
Some shops inside Sun world Building
Hanoi
Sheraton Hanoi hotel: path 1 - Âu Cơ St., Quảng An, West lake;
Lotte Hotel Hanoi - 54 Lieu Giai St., Ba Dinh District
Melia hotel: 44B Ly Thuong Kiet St., Hoan Kiem District;
Women Museum, 36 Ly Thuong Kiet St., Hoan Kiem District;
National Historical Museum, 1 Trang Tien St, Hoan Kiem District;
July shop: 21A Ly Quoc Su St.,
Ajisai shop: 8 Nha Chung St. ( near the Cathedral, Japanese style).
Hilton hotel: 1 Le Thanh Tong St.
Hue
Masco Shops in Hue Airport,
Minh Hoa Shop at 56 Le Loi St.,
Khai Dinh Tomb;
Some shops on the way to Tu Duc Tomb;
Souvenir shop inside Citadel: Residence of the Mother Queen, Peace Pavilion (Royal Library) and the shop at the exit gate
PA gallery, 2B Vo Thi Sau street.
Les Jardins de La Carambole restaurant 32 Dang Tran Con St., near Citadel,
Museum of the tile bridge of Hue
Coffee shop "Mat Biec" , 68 Bao Vinh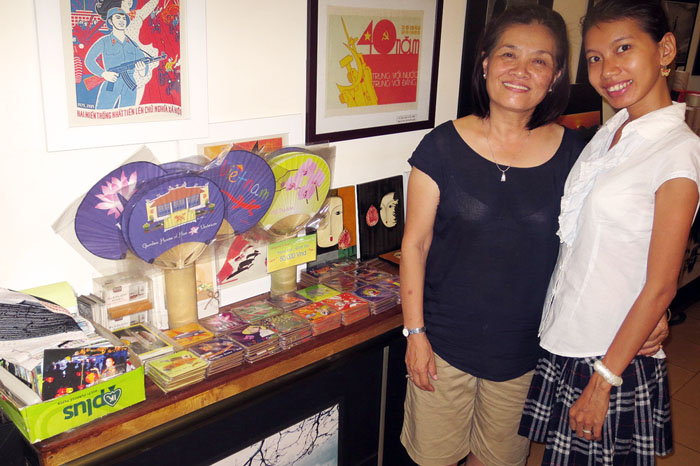 Pa Gallery in the tourist area
Da Nang
Danang Souvenirs - 34 Bach Dang St., 250 Tran Phu St. and 68 Tran Quoc Toan St.
Non La Shop - 10 Nguyen Thai Hoc St., beside Han Market,
Muong Thanh Hotel - 962 Ngo Quyen St.
A Dong souvenir and coffee - 245 Tran Phu St.
Cham Museum - 02 2/9 St.
Masco shop in Danang International Airport (Domestic Terminal)
Hantou souvenir shop - 60 Mai Hac De St.
Muong Thanh Hotel - 962 Ngo Quyen St.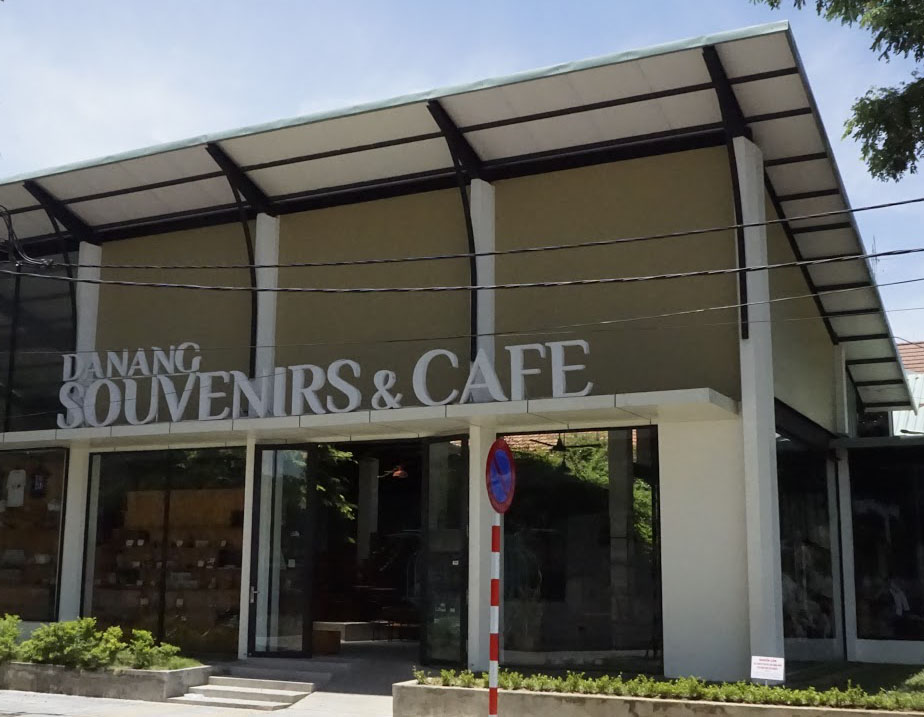 Danang Souvenirs shop
Hoi An
Charming shop at 2 Nguyen Thai Hoc St.
Propaganda Art shop, 188/9 Tran Phu St,
Ajisai, 18 Nguyen Thai Hoc St.
Cool Japan in Hoi An, 17 Hoang Van Thu St.
Belle Maison Hadana resort and spa - 538 Cua Dai St.
Nha Trang
Kissa House - 45 To Hien Thanh St.
Shop Darmark in BigC
Saigon
The House of Saigon - 362A Nguyen van Nghi St., 7 Ward, Go Vap District
Phu quoc Island
Shop All good things Phu Quoc: 90 Tran Hung Dao St.
Famiana Resort and spa
Fusion Resort